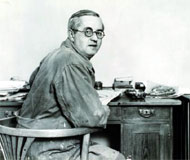 Due to his critical attitude towards Nazism and Adolf Hitler, he was arrested after the German invasion of Czechoslovakia in 1939. He wrote Poems from a Concentration Camp in the Bergen-Belsen concentration camp, where he died in 1945.
Place of Exhibition: The City Gallery of Bratislava, the Mirbach Palace
Date: 03.4. 2009 - 21.6. 2008, daily exept Mondays , 11 a.m - 6 p.m.

Send a comment