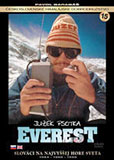 DVD includes:
- Slovak and English language versions
- film Juzek Psotka - Everest
- Czechoslovak Himalayan Adventure
- History of Everest Ascents
- Ivan Fiala about Mount Everest 1984
- Ivan Fiala about Mount Everest 1988
- Vlado Zboja about Mount Everest 1998
About film:
His name evoked respect. Human as well as professional. At home as well as abroad. Jozef Psotka, nicknamed "Juzek", or "mountain worker". One of the most notable figures of Slovak mountaineering. A man who conquered the summit of Mount Everest. Now we have the chance to recall his noteworthy life, which was a great story of conquering the world's highest summits.
Documentary film Juzek Psotka
Screen time: 26 min
Film director: Pavol Barabas
Film editor: Robert Karovic
Script: Diana Kacarova
Presenter: Lenka Moravcikova - Chovanec
Camera: Vladimir Biskupic, Pavol Barabas
PAL system