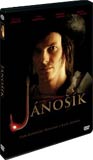 The DVD movie is in the Slovak, or Czech only.
Autori charakterizujú film ako príbeh o láske, priateľstve, o hľadaní šťastia a o osude, nad ktorým sa len ťažko dá zvíťaziť. Film vznikal dlho, najmä kvôli finančným problémom a dokončili ho v roku 2009 a premiéru mal 10. septembra 2009. V predaji ako DVD je od 27. 1. 2010. Film vznikol v koprodukcii Česká republika, Slovensko, Poľsko, Maďarsko a trvá 140 minút.
V našom príbehu stretávame Jánošíka v podaní Václava Jiráčka, ako vojaka Rákocziho vojsk. O pár rokov neskôr ho vidíme v cisárskom vojsku, kde stráži väzňov na Bytčianskom zámku, kde správcuje Krištof Ugronovič (Marián Labuda). Jedného väzňa však neustráži, pretože ho ani veľmi ustrážiť nechce... Je ním dávno prenasledovaný zbojník, kapitán Tomáš Uhorčík (Ivan Martinka).
Dalšiu zimu trávi Juraj doma v Terchovej. Uhorčík si ho nájde a presvedčí ho, aby sa pridal k zbojníkom. Jánošík si skoro získa obdiv Uhorčíka, ale aj niektorých členov zbojníckej družiny. Kým Jánošík spoznáva zbojnícky život, Uhorčík sa zamiluje, ožení sa a rozhodne sa, že zmení svoj život. Juraj sa stáva vodcom družiny. Bohatým berie a chudobným rozdáva. Medzi ľuďmi o ňom začínajú kolovať legendy.
Hraju: Vaclav Jiracek, Ivan Martinka, Michal Zebrowski, Sarah Zoe Canner, Marian Labuda, Richard Krajco a dalsi.
Rezia: Agnieszka Holland, Kasia Adamik
Kamera: Martin Strba
Hudba: Antoni Lararkiewicz
Scenar: Eva Borusovicova
Vyslo na: DVD
Titulky: cesky pre nepocujucich
Obrazove formaty: 16:9
Zvukove formaty: cesky 5.1 / slovensky 5.1
DVD bonusy: Trailer, teaser, videoklip