Velke veci Mareka Ormandika / Big Things by Marek Ormandik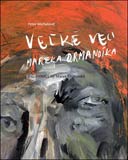 Poet Tomas Janovic and historian of art Peter Mihalovic present paintings by current Slovak artist Marek Ormandik in monograph BIG THINGS by Marek Ormandik. Publication was published in bilingual Slovak/English language version.
March 2, 2011
Veľké veci Mareka Ormandíka / Big Things by Marek Ormandik
Author: Peter Michalovič
Price: EUR 24,90
Category: Culture, Arts
Published by: Slovart
Edition 1.
Published in 2010.
ISBN: 978-80-8085-941-1
184 pp.
Hardbound
Dimensions: 22 x 28 cm

Payment conditions
More in the category
>> Culture, Arts
Latest books, maps, multimedia
More...
Reklama