Ladislav Bielik: August 1968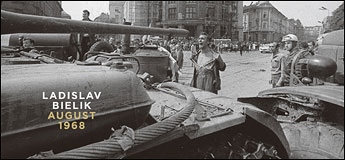 Ladislav Bielik was a photojournalist with the Smena daily in August 1968 - in the time of the Soviet invasion of Czechoslovakia. His picture of a man baring his chest to a tank gun reached the West and became the famous Slovak photography. It was published in many media, won prizes at international competitions, and ranked among the century's 100 greatest photographs.
You can find it in the book as well as other pictures by Ladislav Bielik from August 1968. Text is in Slovak and English languages.
© Copyright 1998 - 2018, Panorama.sk
All rights reserved. Any publishing or further dissemination of press releases and photographs from resources of Panorama.sk without prior written approval by Panorama.sk constitues a violation of Copyright Act.
Partners of Panorama.sk sometimes place small data files called cookies on your device. By using Panorama.sk you agree to the placement of cookies on your device.