Milan Hodža - Statesman and Politician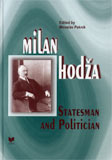 The organizers in participants of the academic conference under the title "Milan Hodža - Statesman and Politician" (15th - 17th September 1992) fully understood that Hodža was an outstanding figure in the Slovak history. The conference on Hodža made the first and decisive step toward his return to Slovak national history.
The publication of the volume of studies under the same title aroused interest of both academic experts and the general public. This is testified by the fact that the previous two editions were soon sold out. As a result of this, the Cabinet of Political Science (now the Institute of Political Science) SAS made a decision to issue the third edition of the volume based on considerable extension of the basic research. We believe that the team of authors of this publication has contributed to further understanding of this key personality in Slovak politics and also in he history of the Slovak political thought.
Publication offers Hodža`s evaluation as a journalist, publicist, historian and political scientist, focusing on his political and also academic profile.
Hodža perceived the position of the Slovak nation in an international context. He sought ways to mutual understanding and equal status of nations in the Central European space. He expounded his project of cooperation between nations and plans for the Danubian Federation, which was to serve as a shield against the rapacious hegemonism of both Nazi Germany and the Soviet Union, in numerous geopolitical studies, and, towards the end of his life, in his extensive work "Federation in Central Europe". The conference gave particular attention to the development of his views on the practical steps of completion of the Slovak emancipation process and to his efforts to strengthen Slovakia`s position in the CSR.
© Copyright 1998 - 2018, Panorama.sk
All rights reserved. Any publishing or further dissemination of press releases and photographs from resources of Panorama.sk without prior written approval by Panorama.sk constitues a violation of Copyright Act.
Partners of Panorama.sk sometimes place small data files called cookies on your device. By using Panorama.sk you agree to the placement of cookies on your device.