CD Cotton Club Stomp - Bratislava Hot Serenaders

List of songs:
Too Late
Because My Baby Don't Mean "Maybe" Now <%song1%>19957<%song2%>19957<%song3%>
Black Bottom
Sunday
Gettin' Ready Blues
Boogie Woogie
Vezmem si Ťa frajerôčka
Jubilee Stomp
Louisiana
I Got Rhythm
The Mooche
Felix, The Cat <%song1%>19958<%song2%>19958<%song3%>
Zatancuj si so mnou, holubička
I'm Proud Of A Baby Like You <%song1%>19963<%song2%>19963<%song3%>
Charleston Is The Best Dance After All
Changes
Plaménky v očích Tvých
Cotton Club Stomp <%song1%>19965<%song2%>19965<%song3%>
Our Love Is Here To Stay <%song1%>19964<%song2%>19964<%song3%>
In A Mist

CD was recorded in 2003 and contains a video with Cotton Club Stomp music. See the video.
More information: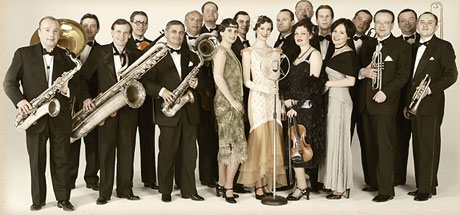 Bratislava Hot Serenaders (CDs, DVD)
© Copyright 1998 - 2018, Panorama.sk
All rights reserved. Any publishing or further dissemination of press releases and photographs from resources of Panorama.sk without prior written approval by Panorama.sk constitues a violation of Copyright Act.
Partners of Panorama.sk sometimes place small data files called cookies on your device. By using Panorama.sk you agree to the placement of cookies on your device.