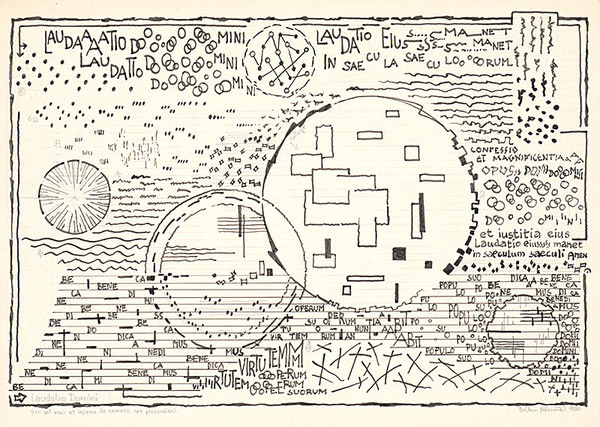 Milan Adamčiak: LAUDATO DOMINI. Author / source: SNG.
The solo exhibition of the neo-avantgarde intermedia artist Milan Adamciak (1946 – 2017) presents the main features of his work from the 1960s. Venue: Esterhazy Palace in Bratislava, from March 23 till June 4.
We decided to keep the title of the exhibition Adamciak, Begin!, on which the curators agreed with the artist himself. It captures the pioneering character of the artist's creative endeavours and it also bears autobiographic motif. Adamciak was constantly beginning – in the interest in all fields of the culture and became a fundamental intermedia artist. He himself claimed that he aimed "to know a lot about something as well as something about a lot." He built his original inter- and transmedia program on overlapping of the science, music, poetry, and visual art. Adamciak created remarkable oeuvre in the field of New Music, he invented and constructed numerous original musical instruments, sound objects and acoustic environments. The music prints, which he delineated in a sophisticated typology, are not only conceptual art pieces; they are as well the music scores, often interpreted by domestic as well as international musicians.
The video from previous exhibition at Anasoft Litera Fest 2015:
Milan Adamciak: "You know what is the most beautiful with sound? That it is not needed to hear it. It is enough to imagine it."
Published: April 3, 2017
Updated: April 3, 2017