Ganymedova fontana skryva skrinku s pergamenom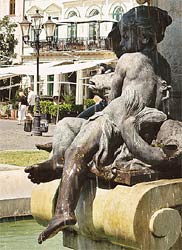 This text is in Slovak language only.
Ganymedova fontana je ovencena romantickymi pribehmi. Bodaj by nebola, ved uz jej vzhlad, orol na samom vrchole unasajuci maleho Ganymeda, deti s dunajskymi rybami, korytnacky, zaby, raky, musle, levie hlavy, to vsetko odjakziva drazdilo fantaziu a zvadzalo k bajkam, ktore su zvlastnym mixom starogreckej mytologie a bratislavskych povesti. Priznam sa, ze pri pohlade na fontanu ma prepadavaju ine, mozno aj dost prizemne myslienky. Priviedol ma k nim napis v madarcine A Poszonyi takarekpenztar na podstavci fontany. Znamena Bratislavska sporitelna. Prave tato institucia - povedane dnesnym jazykom - zasponzorovala honosnu fontanu, v roku 1888 ju darovala mestu. Bolo to dva roky po dokonceni stavby monumentalnej budovy Mestskeho divadla (terajsieho Slovenskeho narodneho divadla). Fontana vyplnila priestor pred jeho hlavnym vchodom. Autorom diela je Viktor Tilgner, bratislavsky rodak a jeden z najuznavanejsich stredoeuropskych socharov 19. storocia.
"Sochar vo svojom diele znazornil anticku legendu o chlapcovi Ganymedovi, ktoreho Zeus premeneny na orla odniesol na Olymp do sidla bohov. Pri stvarneni architektonickej casti fontany sa Tilgner inspiroval fontanami v parku Este v Tivoli, ktora vtedy patrila korunnemu princovi Frantiskovi Ferdinandovi d'Este. V detailoch nadväzoval na donnerovsku tradiciu, co sa prejavilo najmä na postavickach styroch deti na sokli, nesucich styri druhy najhojnejsich dunajskych ryb. Po obvode rozsiahlej kamennej misy umiestil sochar tri dvojice vodnych zvierat: korytnacky, zaby a raky." Tolko faktografia o diele z knihy Stefana Holcika a Bohuslavy Bublincovej Bratislavske fontany.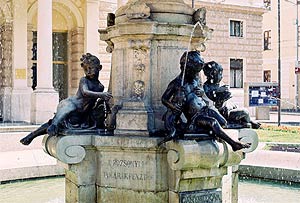 Vráťme sa však k nápisu na fontáne, ktorý zverejňuje donora, Prvú bratislavskú sporiteľňu. V inventárnom spise Pamingu, Mestského investora pamiatkovej obnovy, sa pri popise fontány uvádza, že do nej bola slávnostne vložená kovová skrinka s darovacou listinou na pergamene datovaná dňom 24.9.1888.
Práve táto skrinka mi nedá pokoja. Zrakom skúmam podstavec fontány a odhadujem, kde asi môže byť. Do mysle sa mi neodbytne vkráda otázka "Čo keď náhodou?" a predstavujem si truhličku s pokladom, alebo malý trezor s nejakými ďalšími financiami z prvej bratislavskej sporiteľne. Keď sa však znova pozriem na nádhernú fontánu, uvážim, že "oni" už dali dosť.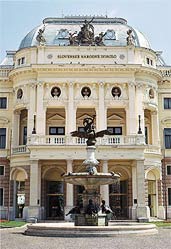 Ganymedova fontana

Hviezdoslavovo namestie


Rok odhalenia: 1888
Autor: Viktor Tilgner

Fontana v neobarokovom style vyplna priestor pred hlavnym vchodom do Slovenskeho narodneho divadla. Jej nametom je starogrecka baj o orlovi, ktory uniesol chlapca Ganymeda na Olymp. Sucasne je v nej zakomponovany aj dunajsky motiv v podobe deti, ktore drzia najhojnejsie ryby Dunaja, kapra, stuku, zubaca a sumca.
More information: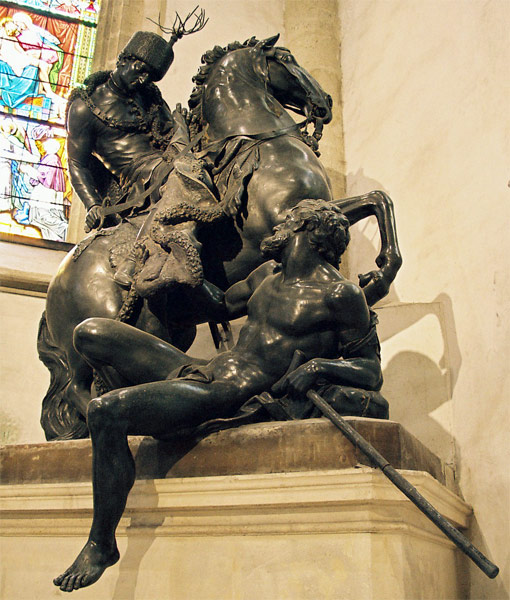 Sculptures and Fountains in Bratislava
Published: 2007-08-09
Updated: 2007-08-09