The Piestany Spa is not only for Patients
Piestany is known worldwide for its Spa, thermal mineral water and unique sulphuric mud. The Piestany Spa is indicated for the treatment of rheumatism and other disorders of motion. However Piestany is not only famous spa, but also a place for relaxation, sports and cultural events. It is pleasant place for relaxing weekend break.
Water Activities
Swimming, water sports, canoeing, sailing, rowing. Pools, spas, wellness centers, and the Vah River and the water reservoir Slnava guarantee these activities.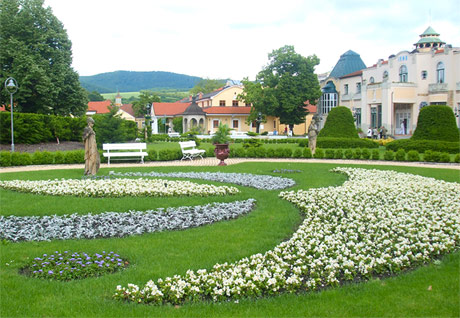 Walking in Parks
The parks are on both banks of the Vah River. The Spa Park spreads on the left bank of the River Vah. From the town center, it is accessible on foot via the Colonnade Bridge. The Town Park is located on the right bank of river. There are three charming thermal lakes on Spa Island with various kinds of water lilies and lotuses.
Museums
The Balneology Museum presents history of the Piestany Spa. There are permanent exhibitions of archeology, history and ethnography of the Piestany´s region too.
The Military History Museum is located at the premises of the former air force airport in Piestany. The exposition displays the military equipment of the Czechoslovak Army from 1945 till 1992.
Tips for Trips in Surroundings
Ruins of medieval castles:
The Tematin Castle is located about 25 kilometers north of Piestany. It is one of the highest situated castles in Slovakia at elevation of 603 meters above the sea level at the Povazsky Inovec Mountains. The castle was built shortly after the Tartar invasion around the middle of the 13th century.
The Beckov Castle is located 26 kilometers north of Piestany. The castle lies on a 60 meters high limestone rock above the Beckov village. The first written records about the castle dates back to 1208. It was a frontier - guarding royal castle.
The Cachtice Castle is approximately 18 kilometers from Piestany. It is one of the frontier castles in the Little Carpathians Mountains. The fame of this castle springs from the dark history of Elizabeth Bathory, the Bloody Lady of Cachtice.
The castle miniatures park in the village of Podolie. There are more than 50 models of castles and castle ruins in the park named The Mathias Kingdom. Podolie is about 15 kilometers far from Piestany.
The town of Vrbove is about 10 kilometers west from the Piestany Spa. Vrbove is a quiet little town with shops and a park where people go to relax. The town has its recreation center on the shore of the Cervenec water reservoir. One of the main attractions in Vrbove is inclined clock tower, which leans 99 centimeters to southwest.
Published: 2008-05-04
Updated: 2008-05-04
Categories: Trips, walks - Spas in Slovakia