Days of open cellars at the Small Carpathian Wine Route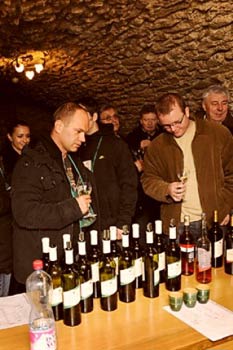 Be in a hurry, because tickets are sold out in advance usually.
Tickets usually include free live tasting of all the exhibited wines and coupons for purchase of one or two bottles of wine. Each participant get a wine glass with a bag and a list of open wine cellars. In such a day the Small Carpathian towns seem like an outdoor urology - many people can be seen on the streets with glasses.
For current Days of open wine cellars see a website of The Small Carpathian Wine Route.
See Wine degustation in Bratislava.
More information:
Online Bratislava Guide
Published: 2011-02-11
Updated: 2011-02-11
© Copyright 1998 - 2018, Panorama.sk
All rights reserved. Any publishing or further dissemination of press releases and photographs from resources of Panorama.sk without prior written approval by Panorama.sk constitues a violation of Copyright Act.
Partners of Panorama.sk sometimes place small data files called cookies on your device. By using Panorama.sk you agree to the placement of cookies on your device.