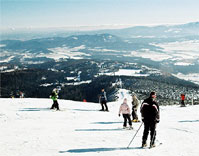 The Strbske Pleso is a High Tatras settlement with the highest location (about 1350 meters above sea). It is located around one of the biggest mountain lakes of the same name. The Strbske Pleso is known as a skiing center with trails, ski jumps (outdated in 2013), ski lifts to Solisko and tows. It was also a spa center for treatment of allergic and upper respiratory tract ailments.
Strbske Pleso is a good access point to the western part of the High Tatras (peaks Krivan, Solisko, Mlynicka Dolina valley with big waterfall Skok (Jump), Furkotska Dolina, and Mengusovska Dolina valley with Popradske Pleso, Ostrva and route to the Rysy peak among others.
Strbske Pleso has mountain train connection to Strba railway station. Strbske Pleso has its own post office, bus station, shops and other facilities.
Close to the Popradske Pleso, near the Strbske Pleso, there is the Symbolic Cemetery, which remembers people who perished in the High Tatras. The cemetery is known for its wooden crosses painted with folklore motives from Detva area.
#Strbske Pleso #Vysoke Tatry
Published: March 23, 2004
Updated: January 6, 2017