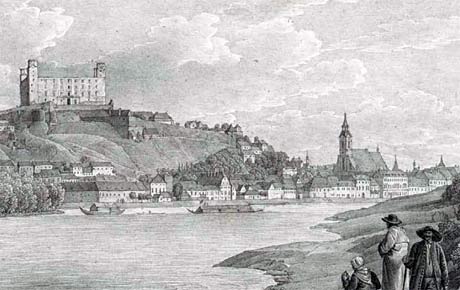 The work consists of 264 lithographs. It is one of earliest series of paintings of the River Danube. The work is based on the vision to depict the most significant views of the entire watercourse of the River Danube. Large parts of the 3,000 km long watercourse from the Black Forest to the Black Sea were situated in the Ottoman Empire at the time. A study trip to this area was considered a big risk because landscape painters and strangers were often seen as spies.
Jakob Alt, who had originally accepted the assignment to depict the entire watercourse of the River Danube, later withdrew from the contract due to the dangers to be expected from the study trip. He painted the views of the River Danube from the Black Forest to Belgrade. Ludwig Erminy completed the assignment on location. The artistic quality of the paintings, which were later applied to a lithograph stone and printed therefore varied greatly.
The "Views of the River Danube" combine important artistic, scientific and technological development. The focus of painting the ideal landscape was shifted to a new approach: It concentrated on the immediate view of the painter and the demand to depict reality. The new printing method known as lithography helped satisfy the "hunger for paintings" by the bourgeoisie of the time.
The work was first published in sets of four lithographs each. Nine of the paintings were made of the area between Leopoldsberg Mountain and Lobau Floodplains, which is today s watercourse of the River Danube in Vienna.