Storks in Partizanska Lupca, Liptov Region, Spring and Summer 2017.

Storks migrate to South during Fall and Winter periods.
Webcam / online stream by
PROFI-NET - Internet provider in Liptov, Slovakia
.
Comments
Ked sa raz bociany dozvedia... (23.5.2013)
Ked sa raz bociany dozvedia,
ze kamery im v hniezde sliedia,
zacnu klepat zobakom:
Honorar dajte nam vtakom!
My sme predsa celebrity,
lov ziab je nam ukradnuty.
Vlado Bibel
Bociani pribeh roku 2016 - vzacnost (27.7.2016)
Tento rok sa nam narodilo 5 mladat to je velky uspech a rekord a vzacnost. Sme radi, ze su tu s nami, len tak na dalej.
Anon.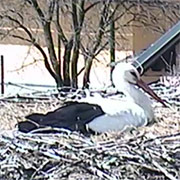 Storks in 2013
Stork's nest webcam located in Liptov area. Chocske Vrchy Mountains in background. Managed by the Tatras National Park Administration and PROFI-NET company.
Published: April 25, 2013
Updated: March 31, 2017
© Copyright 1998 - 2017, Panorama.sk
All rights reserved. Any publishing or further dissemination of press releases and photographs from resources of Panorama.sk without prior written approval by Panorama.sk constitues a violation of Copyright Act.
Partners of Panorama.sk sometimes place small data files called cookies on your device. By using Panorama.sk you agree to the placement of cookies on your device.