Wine Tasting in Bratislava
Bratislava has been a city of excellent cuisine and delicious wine traditionally. On the sunny slopes of the Small Carpathians Mountains grapes have been cultivated since very early times – people have enjoyed wine here since 200 – 300 years BC. The wine-growers from Presporok (the former Slovak name of Bratislava) supplied royal wine cellars with their wine. There is a nice exposition in Museum Of Viticulture in the Apponyi Palace.
The wine tradition, which was not cultivated for last decades of 20th century, was reestablished by the Festival of Young Wine in Bratislava. Usually it dates around the 11th of November, the Saint Martins Day (Saint Martin is a patron of vintners).
Taste Wines of the Small Carpathians (Male Karpaty) Area
A new site with wine tasting is in a reconstructed historical wine cellar with a hotel built just above this cellar. There are 45.000 bottles, 20 white, 15 red types and special products in this wine archive. The wine is product of a wine company based in the Pezinok town – one of the traditional Small Carpathians vintner centers. The company has in its portfolio 20 sorts of white, 13 of red variety wines and several superior wines.
Green Veltliner - is a dignified and self-confident representative of the white wines group produced from a non-aromatic grape varieties. However, the "aroma" is not so unambiguous. Even today, the older winemakers call the veltlin as "zeleny muskatel – green muskatel". It is characterized by the scent of green almonds and by the taste of roasted almonds. The fullness and velvet likeness of its features is enhanced while it rests in bottles.
Müller Thurgau - is a cross-breed between rizling and silvan. Its creator, Dr.Muller, did not want the cross-breed to bear his name and his wish is honored in many countries and therefore it is marked
as "rizvanec". This variety yields bouquet-like, less extractive but slightly muskat-like wines with lower content of acids. That is why we recommend its early consumption.
Chardonnay - is the most desired white wine grape variety in the world these days. It comes from Burgundland and it will convince you by its gentle velvet-fruitlike bouquet and a unique taste of acacia honey. Ripening in wooden barrels and resting in bottles suits this wine. We believe that our Chardonnay will satisfy your senses.
Other white wines: Red Veltliner early, Green Silvaner, Feteasca regala
Rhine Riesling, Neuburger, Kerner,Pinot blanc, Pinot grigio, Junglady grape, Moravian muskat, Irsai Oliver, Sauvignon blanc, Muskat Ottonel, Traminer, Devin, Czerszegi Füszeres, Palava.
White Cuvees: Caballero, Cuvee Matysak.
Rose wines: Saint Laurent Rose, Zweigeltrebe Rose.
Red wines
Saint Laurent - comes from France, but to locate it you need to have luck. However in our area it is an attractive and favorit blue variety. It yields pleasant harmonic wines, equipped with suficient color and often pleasantly cherry-fruit bouquet. Svätovavrinecke - Sain Laurent tastes good even as a young wine. That it when it reminds of the famous "Beaujolais nouveau"!
Lemberger - When it is ripe enough, it is dark, smells after cinnamon and its taste is long and ample "warm". It comes from a remarkable concentration of polyphenols and glycerol. Open the bottle an hour before you want to drink it, cool the wine to 16 – 18°C and pour it into decent, big glassy glasses.
Dornfelder -is German cross-breed, which settled in the vineyards of the Small Carpathians not long ago. It yields colorfully intensive red wine with scent of a small berry fruit. Its taste is full, extractive and persistent. Resting in barrels and then in bottles it ripens into the form which is very attractive to the red wine lover.
Cabernet Sauvignon - is a unique variety. Though you can not speak French, you will surely understand it. But try do get aquatinted with matured Cabernet. It is going to be full of scents of red currants and black pepper. In a few years old Cabernet you will actually discover scents of chocolate and tobacco. Cabernet Sauvignon is simply godly medium.
Other Red Wines: Andre, Zweigeltrebe, Pinot noir, Blue Portugieser, Heroldrebe, Domina, Alibernet, Otelo, Riesling black.
Red Cuvees: Hidalgo,The King Ondrej II.
Sparkling Wines: Matysak, Morio.
>> Send a query (for minimum 8 persons)
More information:
Online Bratislava Guide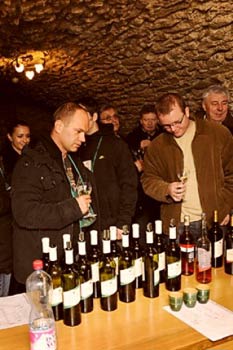 Days of open cellars at the Small Carpathian Wine Route
Published: 2005-12-15
Updated: 2005-12-15