Avion Shopping Park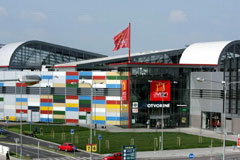 Avion Shopping Park is the dominant shopping center in Bratislava. It is situated about 6,5 kilometers from the city center. It is accessible by public transport No. 61, 63 and 67 and a shuttle bus for free.
Avion shopping park provides customers with a complete food assortment, a wide selection of fashionable clothing and footwear, sports equipment, electronics, furniture and household equipment. There are IKEA, Hypernova, Giga Sport, Datart, Deichmann, Gate and others.
Part of the comprehensive range of services provided are restaurants and cafes. Avion provides free activities for children, such as children's go-karts, trampolines, rodeo, table tennis etc. Exclusive attractions offered at our center involve an all-season ice-rink and a child day-care center.
Visitors may use 3,000 free parking places with well-positioned orientation signs and more than 500 parking places in new underground parking.
Avion Shopping Park
Ivanska cesta 16, 821 04 Bratislava
www.avion.sk