Bratislava - Pictorial Guide

This well illustrated brochure contains 100 photos and 14 engravings and graphic prints from 14th to 19th centuries, basic information about Bratislava's history, sights and its surroundings. Two pictorial maps of city center are included. The guide was published in 13 languages - in English, Arabic, Czech, French, German, Hebrew, Hungarian, Italian, Japanese, Polish, Russian, Slovak, and Spanish!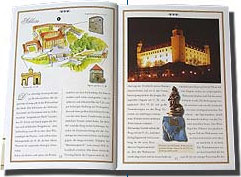 Chapters representing the city's history - Past and Present, Ups and downs - are at the beginning of the brochure. Next part of the book concentrates on historically most significant sights and events: The Castle, St. Martin's Cathedral, Coronations, The Old Town Hall, The Primate's Palace, Grassalkovich Palace. The following pages take a reader on a walking tour through the Old Town and its immediate surroundings. At this chapter 28 sights are included.
"Wine-growing in Bratislava is as old as the city itself… The Old Town abounds in wine bars and cellars that are the best places to sample wine," writes the author and editor of the brochure, Martin Sloboda, in a chapter named Wine.
Important sights in Bratislava's region in Slovakia are described in a chapter Worth visiting: Devin Castle, Cervený Kamen Castle, Smolenice Castle, famous spa town Piestany and Beckov Castle ruins. The final chapter is devoted to famous composers who gave concerts in Bratislava.
Published: April 19, 2013
Reklama