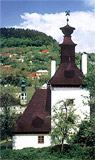 In the l8th century, Banska Stiavnica was the biggest centre of extraction of bullion in the whole monarchy. Turkish threats were by that time averted for good, religious tensions calmed down, truggles between the Hungarian arisocracy and the royal court ceased to exist, and the long-lasting dispute between he mining towns and the public treasury was also settled. All of these were positively reflected in the town's economic and cultural development.
Empress Maria Theresé decided to establish the Mining Academy in Banska Stiavnica, being the first mining academy (meaning university in today's terms) in Europe.
The heart of the town is Trinity Square, historically the most valuable site in Banska Stiavnica. In the l5th century the square was divided into two parts by building the Church of St. Catherine, which resulted in the emergence of two smaller squares, simply referred to as the upper and the lower.
The square is dominated by the massive Plague Column, which was built in the middle of it, following the plague epidemics of 1711. A number of burgher houses lining the square are also impressive.
What's interesting about these houses is the fact that, in the ground beneath them, they still hide corridors leading to old mining adits. These houses also were venues for interesting and historical events, and home to some interesting people.
For example, the Pischle House used to be home to Maria Pischlova, muse of the famous poet Andrej Sladkovic, inspiring him to write the most beautiful love poem in Slovak literature, Marina. Another is the richly decorated Fritz House, which used to be the seat of Mining Academy's Rector's Office, and also included a library and study hall. The Hallenbach House was originally the seat of Court of Mines and later of Mining Academy. Today, it houses the exposition installed by the Slovak Museum of Mining.
Architectonic highlights of the town are definitely the sacral sights on the Scharfenberg Hill. The complex includes three chapels, two churches and a cross with a stone sculpture of Our Lady of Seven Sorrows.
Speaking of sacral sights, the Calvary shouldn't be omitted, the top of which gives you a lovely view of the town and its surroundings.
For perceptive visitors, Banska Stiavnica is an open book of architecture, history and ecology.