CD Bolo nas jedenast (Lasica, Satinsky, Filip)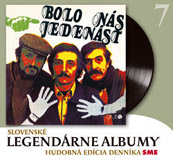 Popular Slovak songs from the early 80ies. Songs were composed by Jaro Filip, authors of lyrics are Milan Lasica and Tomas Janovic.
List of songs:
1. Chcel by som byt
2. Spominam na Pariz
3. Jezibaby
4. Na vystave
5. V jedalnom vozni
6. Ach, to by boli vojny malebne
7. V nasej obci
8. Za dedinou
9. Jano bol chlap
10. Vyletel vtak
11. Ked som isiel
12. Bolo nas jedenast
13. Do batozka
March 7, 2013
Latest books, maps, multimedia
More...
Reklama