Rozpad Ceskoslovenska - Cesko-slovenske vztahy 1989-1992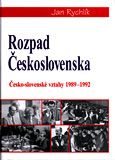 Split of Czechoslovakia is a third book of Czech historian and ethnographer Jan Rychlik about Czech - Slovak relations. He analyses events from 1989-1992. Text is in Czech and Slovak languages, it includes summary in English and German languages.
December 11, 2008
Latest books, maps, multimedia
More...
Reklama