Attractions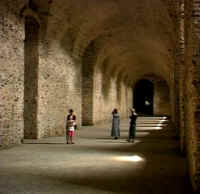 There is a museum at the castle, which makes available records of the development of the residences of the aristocracy from the 16th century to the beginning of the 20th century. A part of the museum is exhibition of historical arms.
Cellars of the Cerveny Kamen Castle, remnants of the Fugger family era, represent with their extensiveness, ingenious architectonic design and connection of individual halls a work of immense value, unrivalled in Slovakia. Guided tours last approximately 1.5 hours.
Within the castle complex, you can visit the ASTUR Falconry, open daily except Monday. A further atraction is horse and ponny riding, and carriage trips around the historical park.
Contacts:
Cerveny Kamen
900 89 Casta
tel.: (++421) (33) 6905 803
e-mail: objednavky-mck@snm.sk