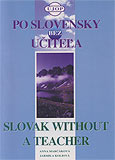 Sorry, the textbook is sold out.
The core of the textbook are dialogues based upon standard life situations containing the most frequent models of practical communication in common thematic spheres which a foreigner unavoidably encounters.
The communicative principle also influenced the selection and compilation of the basic grammatical subject matter applied in dialogue exercises. These exercises are complemented by model sentences and synoptical charts that allow the perceptive to systematize the knowledge gained.
The grammatical subject matter emanates from the valid language norms of literary Slovak, but the method of its presentation is determined by the position of Slovak as a second language. Individual grammatical phenomena are presented in such a way as to be understandable even by non-philologists for whom the textbook primarily is intended.
Advantage of this book is the translation of the introductory dialogues and dialogue exercises into English. This enables the rapid comprehension of the meaning of words in context and replaces tedious work with a dictionary. Another advantage are three CDs which will assist in the acquisition of a correct pronunciation and the automatization of the models of practical communication.
The textbook also contains relatively exact rules for the declination of nouns in Slovak. Since these theoretical explanations serve only to intensify and systematize already mastered knowledge, they are placed in a separate section at the end of the textbook.
The goal of this textbook is to prepare the user to be able to communicate in Sllovak without major problems, to express his or her opinions, obtain needed information, and respond to it properly.
The textbook was published in 1995.