Pools and Lakes in Bratislava and Surroundings

There are several summer pools, one aquapark, and lakes in Bratislava. The area west from Bratislava, known as Zahorie, offers swimming in lakes. The South Slovakia offers several thermal pools, some of them are open during the whole year.
Pools and Lakes in Bratislava
Summer Pool Rosnicka - Dubravka, M. Sch. Trnavskeho Street 2, contact: (++421)(2)64360960
Summer Pool Tehelne pole, Odbojarov 9, contact: (++421)(2)44372828
Summer Pool Delfin, Ruzova dolina 18, contact: (++421)(2)53415553
Summer Pool Krasnany, Cernockeho ul., contact:(++421)(2)44872500
Summer Pool Raca, Knizkova dolina, contact: (++421)(2)54281312
Summer Pool Lamac, Pod nasypom, contact: (++421)(2)64462475
Summer Pool Matador, Petrzalka, contact: ++421)(2)63830524
Summer Club Incheba, Viedenska cesta 3-7, tel.: (++421)(2)6727 1111
Zlate piesky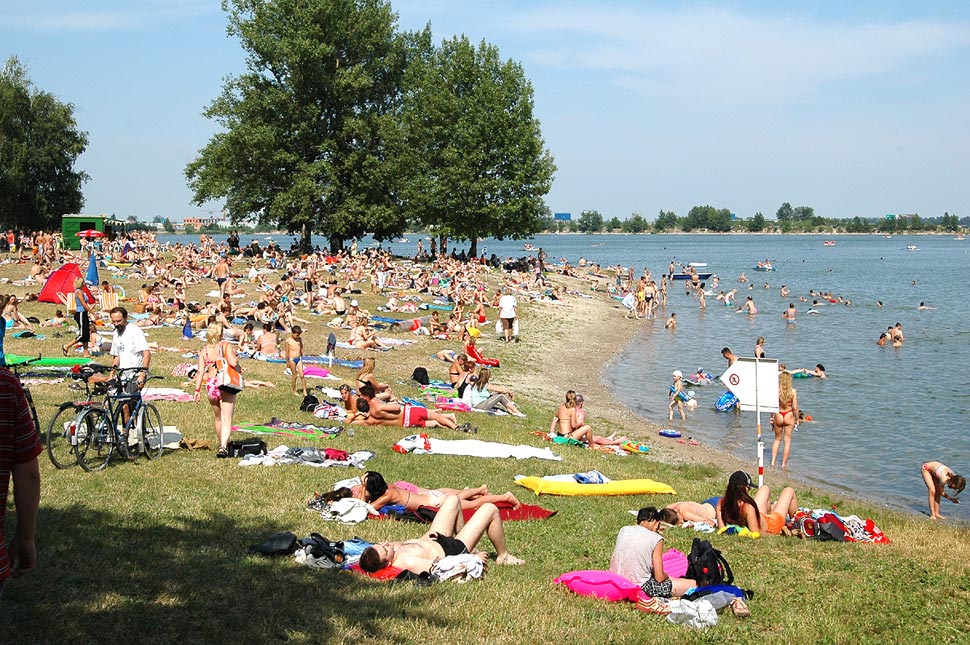 The lake in the Area of Health in Zlate piesky (Golden Sands)is a very popular site in Bratislava. The complex is located to the northeast of the city, beside the main highway to Nitra and Zilina.
Address: Zlaté piesky , Senecká cesta 2, contact: (++421)(2)44257018
The Kuchajda Lake
The lake is in the neighborhood of the Shopping Center Polus at Vajnorska cesta Street. There are showers, toilets, dressing rooms, sporting facilities, restaurants.
Lakes in Vajnory
Two lakes are very good visible from the motorway D1 to Trnava. There is only wild swimming.
The Drazdiak Lake
The lake in Petrzalka with many facilities (showers, WC, restaurant, sporting facilities). There are some other lakes nearby, but only with wild swimming.
The Zahorie Region and Western Part of the Small Carpathians Mountains
Podunajska Nizina Lowlands and the Zitny Ostrov Island (around Senec – Sladkovicovo – Galanta – Sala Route)
On the Route Gabcikovo – Dunajska Streda – Velky Meder - Komarno
This page is a part of Online Bratislava Guide.
July 1, 2012