Slovakia - Tourist Guide

Slovakia - Tourist Guide - is a handy and very well done book offering the general overview of the Slovakia and a guide through the most interesting places in Slovakia. Author of the book is Jan Lacika - one of the most experienced Slovak writers of popular tourist books. The book contains 10 tourist routes around Slovakia plus a sightseeing tour around the capital Bratislava.
The author - Jan Lacika - and publisher of the book - Priroda - have got a Slovak Gold Certificate for this title in the 2003. (Slovak Gold is a non-governmental system of evaluation for awarding and promotion of Slovak production above the standard quality.)
The first 45 pages contain a general overview of Slovak history, geography, nature, population, economy, culture and arts.
For instance, in the Architecture section a reader finds a short overview of the most important masterpieces - from Romanesque architectural style (the 12th-13th centuries) up to the modern architecture structures created in the 20th century. The art and culture chapter introduces the most important personalities of the Slovak culture.
Natural and Cultural Heritage chapter contains general information regarding spas and mineral springs in Slovakia.
"When comparing the carsting processes within Europe to those in Slovakia, the only countries with more extensive limestone and other rock massifs exposed to this process will be observed in Croatia, Slovenia and France," writes Jan Lacika in the section devoted to the Slovak karst and caves. Next section of the chapter offers a short overview of landmarks included on the UNESCO World Heritage List.
Looking for active vacation? The chapter named Active vacation contains sections Summer Hiking and Mountaineering Opportunities, Skiing and Winter Tourism, Water Sports and Bathing Facilities.
"Different forms of legal protection for nature and the landscape apply to more than 20 percent of the territory of Slovakia," writes the author in the chapter Preservation of Nature and Monuments chapter. "There are nine national parks in Slovakia, all of which are located in the mountainous areas of the Carpathians." And "there are a total of 138 towns in Slovakia and 18 of them have been declared town historical preserves… Additionally, Slovakia has 88 historical zones preserving urban and rural complexes of cultural monuments, such as Bojnice, Komárno, Liptovský Ján, Markušovce and Hanušovce nad Topľou. Tourists can find folk architecture monuments, 109 castles and chateaux, and 435 mansions in Slovakia. Skill and knowledge of the Slovak people confirm many technical remains left from the past.
Next chapters contain useful information regarding shopping, souvenirs, rest and entertainment, transportation, accommodation, and boarding in Slovakia.
Next 160 pages of the book are devoted to the capital Bratislava and to selected tourist routes.
Each of 10 tourist routes includes interesting towns and cities with historical monuments, nature and tourist sightseeing suggestions, tips for trekking and cycling. The text also features helpful pictograms, nice views and possibilities for swimming, walking and trekking, skiing plus accommodation, and railway and bus connections. Also provided are essential data on tourist information centers on the given route. Moreover, color pictures and layouts of the most attractive locations will help you choose the most appropriate route and destination.
Cover pages of the guide offer maps of tourist routes, a map of Bratislava's center and a map of the High Tatras mountains.
The book was published in Slovak, English, and German languages.
Contents
History in Brief
Slovakia - Country and People
Culture and Arts
Natural and Cultural Heritage
Active Vacation
Preservation of Nature and Monuments
Useful Information
How to travel to and throughout Slovakia
Where to find Accommodation and how to Board
Bratislava
History, Sightseeing in the Town: Bratislava Castle and Outer Bailey - Bratislava's Churches - Palaces of Bratislava - Theaters, Museums and Galleries of Bratislava - Schools of Bratislava - Danube Bridges - Boroughs of Bratislava
Route 1 - Záhorie Region
Bratislava - Malacky - Veľké Leváre - Šaštín - Skalica - Branč - Myjava - Bradlo - Plavecký Peter - Stupava - Bratislava
Route 2 - West Danubian Region
Bratislava - Modra - Červený Kameň - Budmerice - Smolenice - Dolná Krupá - Sereď - Diakovce - Dunajská Streda - Gabčíkovo - Šamorín - Senec - Bratislava
Route 3 - Považie
Trnava - Piešťany - Čachtice - Beckov - Trenčín - Trenčianske Teplice - Súľovské skaly Rocks - Žilina - Vychyľovka - Rajecké Teplice - Čičmany - Strečno - Vrátna Valley - Vlkolínec - Liptovská Mara - Demänovská Valley - Východná - Liptovská Teplička
Route 4 - Spiš Region
Poprad - Spišská Sobota - Kežmarok - Červený Kláštor - Stará Ľubovňa - Podolínec - Levoča - Spišská Kapitula - Spiš Castle - Spišská Nová Ves - Slovenský raj National Park - Dobšinská ľadová jaskyňa Cave - Poprad
Route 5 - The Tatras
Podbanské - Štrbské Pleso - Smokovce - Tatranská Lomnica - Ždiar - Tatranská Javorina
Route 6 - From Danube to Babia Hora
Komárno - Nitra - Topoľčiansky Castle - Uhrovec - Bojnice - Kláštor pod Znievom - Mošovce - Blatnica - Martin - Zázrivá - Dolný Kubín - Oravský Podzámok - Roháče Mts. - Oravská Priehrada Water Reservoir - Babia Hora
Route 7 - Pohronie Region
Štúrovo - Bíňa - Levice - Hronský Beňadik - Banská Štiavnica - Kremnica - Zvolen - Detva - Poľana Mount - Sliač - Banská Bystrica - Špania Valley - Donovaly - Brezno - Telgárt - Poprad
Route 8 - Southern Slovakia (Poiplie and Gemer Regions)
Nitra - Topoľčianky - Brhlovce -Dudince - Bzovík - Modrý Kameň - Halič - Divín - Lučenec - Hajnáčka - Rimavská Sobota - Muránska Planina Plain - Revúca - Rožňava -Betliar - Krásna Hôrka - Slovenský kras - Domica Cave - Kráľ
Route 9 - Surroundings of Košice
Košice - Ružín -Gelnica - Smolník - Medzev - Jasov- Kojšovská hoľa - Bukovec - Seňa - Herľany - Dubník - Solivar - Košice
Route 10 - Šariš and Zemplín Regions
Prešov - Veľký Šariš - Sabinov - Plaveč - Hervatov - Bardejov - Bardejovské Kúpele spa - Svidník - Medzilaborce - Domaša dam - Humenné - Poloniny National Park - Morské Oko lake - Zemplínska Šírava dam - Michalovce - Trebišov - Tokay vineyards - Košice.
More information: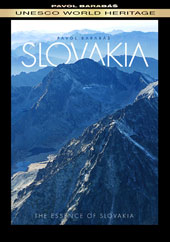 Slovakia - Guidebooks and Maps

Books about Slovakia in German language and dictionaries – Die Bücher über die Slowakei in Deutsch

Slovak for you - a conversational phrasebook
Slovakia - Useful Information for Travelers and Tourists
Published: 2003-12-22
Updated: 2003-12-22
Categories: Trips, walks - Help for Travelers - Slovakia