Advanced Grammar in Use with Answers + CD ROM (3rd Edition) - vypredané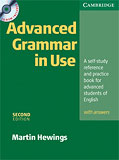 Cena: 23.50 EUR
Mierka: 0
Kategória: Jazykové slovníky, cudzie jazyky
Vydavateľ: Cambridge University Press
Vydanie 2.
Rok vydania: 2005
ISBN / EAN: 9781107699892
Počet strán: 304
Mäkká väzba
Rozmery: 19.80 x 26.40 cm
Copyright 1998 - 2018, Panorama.sk. All rights reserved.
Partners of Panorama.sk sometimes place small data files called cookies on your device. By using Panorama.sk you agree to the placement of cookies on your device.