Angličtina pre samoukov + 3 CD
Sorry for inconveniences, our shopping cart is out of service. You can use our mail form: >>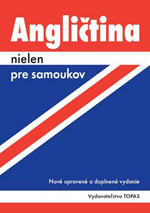 Cena: 19.90 EUR
Mierka: 0
Kategória:
Dictionaries, Languages
Vydavateľ: Smaragd
Vydanie 0.
Rok vydania: 0
ISBN / EAN: 9788089063178
Počet strán: 510
Mäkká väzba
Rozmery: 15.00 x 20.50 cm

More information: >>
© Copyright 1998 - 2018, Panorama.sk
All rights reserved. Any publishing or further dissemination of press releases and photographs from resources of Panorama.sk without prior written approval by Panorama.sk constitues a violation of Copyright Act.
Partners of Panorama.sk sometimes place small data files called cookies on your device. By using Panorama.sk you agree to the placement of cookies on your device.