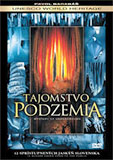 Join us in descending into the mysterious underground of Slovakia. Let's walk through unrepeatable sinter formations, bewitching aragonite or cooling ice decorations which offer an unusual view of the mysteries hidden deep beneath the Earth's crust. You will be captivated by a variety of formations, passages preserved by water, massive underground halls, narrow canyons with roaring waterfalls and crystal clear lakes. No wonder that many of these caves were listed in the World Natural Heritage register.
DVD Content:
- Slovak/English language
- Film Mystery of Underground
- Photo gallery
- trailer
- The longest caves
- The deepest caves
- Caves on the UNESCO list
- Caves open to the public
As a bonus the DVD contains a CD with 7 songs written by Slovak authors - M. Schneider-Trnavsky, J. Irsai, F. Kafenda a B. Suchon. Singers: Jan and Martin Babjaks and Terezia Kruzliakova. The concert was recorded in the Harmanecka Jaskyna Cave.
Photography and direction: Pavol Barabas
Editing: Matej Benes
Music: MAOK
Length: 15 min.
Year of production: 2009
PAL System