Bosorky a carodejnice - Dejiny prenasledovania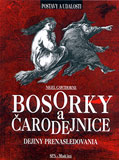 History of witch-hunting. In Slovak language.
February 13, 2009
Bosorky a carodejnice
Author: Nigel Cawthorne
Price: EUR 9,27
Category: History, Memoirs
Published by: Slovenske pedagogicke vydavatelstvo - Mlade leta, spol. s r. o.
Edition 1.
Published in 2008.
ISBN: 978-80-10-01451-4
174 pp.
Hardbound
Dimensions: 17,5 x 24 cm

Payment conditions
More in the category
>> History, Memoirs
Latest books, maps, multimedia
More...