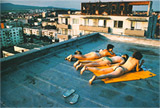 The 5lovakia book presents a cross section of transformations of the Slovak society at the beginning of the new century, being a display of the contemporary Slovak documentary photography of the middle aged and young generation.
Andrej Ban inclines towards a more traditional approach using black and white photographs somewhere on the boundary between reportage and social documentary photography. While his photographs often have a psychological undertone or sharp artistic aesthetics showing the traditional life of Slovaks, the other photographers have chosen to use colour photographs and different topics.
Andrej Balco took notice of how we spent our leisure time both in the Slovak housing estates and inside the block of flats.
The ironizing snapshots of Jozef Ondzik have a watchful eye on public meetings, different forms of entertainment and beauty contests, while Martin Marencin uses colour shifts common in fashion photography and focuses more on the negative manifestation of Slovakia's transformations.
Viktor Szemzö in his digital manipulations shifts toward increasingly popular trend of "paradocumentary" photography, which he uses to depict the atmosphere of Slovak suburban neighbourhoods and the different behaviors of its inhabitants.
Authors are winners of the Vaculik Advertising Grant (in 2002 - 2006). This grant allows to photograph within a period of one year, the transformation of Slovakia.