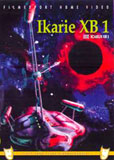 The year is 2163. Starship Ikaria XB 1 embarks on a long journey across the Universe, to search for life on the planets of Alpha Centauri. The movie is based on the novel "Magellan Cloud" of Stanislav Lem.
1963, black and white, 87 mins
Director: indrich Polak
Screenplay: Pavel Juracek, Jindrich Polak
Music: Zdenek Liska
Cast: Zdenek Stepanek (Vladimir Abajev), Frantisek Smolik (Antony Hopkins), Dana Medricka (Nina Kirova), Irena Kacirkova (Brigita), Radovan Lukavsky (MacDonald).
DVD includes English subtitles.
This is a Region 0 PAL DVD.