Exhibition Pavilion Podhradie Zizkova St. 16
09.12.2009 - 30.09.2010
The Slavonic fortified settlement Valy at Bojna (district Topolcany) has in recent years justifiably become one of the most strongly monitored Slovak archaeological localities by professionals and the media. Even though the fortification has long been known about, it has only recently entered into public consciousness due to new findings discovered by amateur collectors. Some of these findings have been successfully safeguarded and integrated into the collections of archaeological institutions (Slovak National Museum – Museum of Archaeology, Archaeological Institute of SAV Nitra, Ponitrianske Museum Nitra), others have ended up in private collections.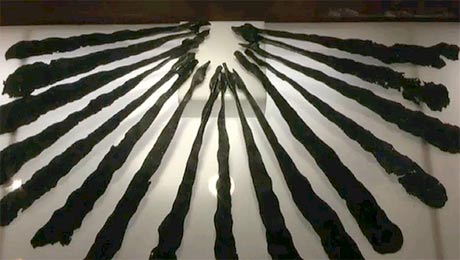 In recent years, the locality has been the subject of archaeological esearch under the leadership of K. Pieta from the Archaeological Institute of SAV Nitra. The results of the research has to a considerable extent supplemented the actual knowledge and have also introduced new, unexpected information about the fortification and its settlement structure. Even in spite of the absence of written documentation, these outcomes have proved that the fortifi ed settlement had been the domicile of the local Slavonic elite, which witnessed the beginnings of the Slovak nation's formation, even before Velka Morava existed.
Within the rich range of research findings, which up to now comprise thousands of items: agricultural tools, craft tools, objects for daily usage, as well as military equipment are included. Belt decorations and parts of harness, which serve as evidence of the wealth of the local nobility and their families, constitute a separate group. Some further findings are completely surprising: eg. documentation of Christianity from a period prior to the arrival of Cyril and Metod. Particularly the gold-plated hammered plaques are in question, being highly exceptional artefacts of the early-medieval findings of European merit. Their models can be found in Western Europe, especially in the Carolingian areas. A bronze bell from a Christian church is also significant, being the oldest bell ever to be found in Slovakia. The results of the archaeological research of the fortifi ed settlement prove that this settlement served in the 8th and 9th centuries A.D. as an important power, craft and business centre of the upper Nitra region, comparable to the most signifi cant localities from the given period.
Bojna is one of the most exceptional early-medieval archaeological sites of its type in Central Europe. Despite the fact that the archaeological research of the fortifi ed settlement is far from finished, it can be said as early as today that it has unravelled knowledge that has so far been considered to be buried deep in history. A selection from the rich findings from the settlement at Bojna has already been exhibited in Nitra and Brno. The exhibition in Bratislava is supplemented by exhibits from the collections of the SNM – Museum of Archaeology, as well as by the most recent artefacts obtained during the archaeological research of the location.