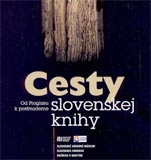 The Slovak National Museum, Vajanskeho Embankment 2 Bratislava
27.2. 2010 - 12.9.2010
The exhibition project studying the origin and the development of Slovak book culture and literature in broader historical context. It offers a comprehensive survey from its beginnings to the present day on more than 300 exhibition items and attractively presented panel texts. (In Slovak, English languages).
It consists of two independent parts which are mutually overlapping.
The first The Roads of a Slovak Book - follows the beginnings, the growth and the high and lows of Slovak book culture in a long historical period.
The second part of the exhibition - From Proglas to Post-Modernism - is devoted to the historical development of original artistic writing in the course of twelve centuries.There will be unique collections of manuscripts and samples of key works by Slovak writers of various period of time. A special attention is given to samples of original book illustrations.