Bratislava (Includes DVD)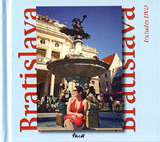 Subtile book about Bratislava with a DVD. The text was written in three language versions: Slovak, English and German. The DVD offers four languages: Slovak, English, German, Italian.
The book starts with information about history of Bratislava. There are the most known and traditonal views of Bratislava at first pages:
Like the mythical Phoenix bird, Bratislava castle rose from the ashes both figuratively and in the literal sense. In 1811 a devastating fire turned it into a smoldering pile of rubble and it wasn't until 1953 that reconstruction began, giving the ancient castle its present look of grandeur. (The castle is reconstructed again now, in 2009.)
The castle is accessible through King Sisismund's Gate, an impressive 15th century Gothic creation.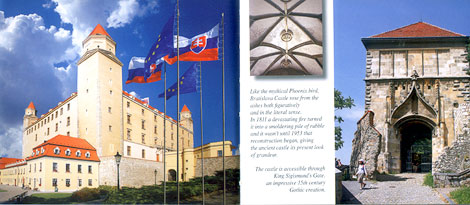 The DVD movie introduces to the rich history of the city, famous coronations of Hungarian kings and also Bratislava of today.
The DVD shows the most popular sights of the Old Town and the Bratislava Castle, traditions of Bratislava and its surroundings. The Devilish Violins of Jan Berky Mrenica play in background. The movie takes less than 30 minutes.


There is a photogallery at the DVD. However, the latest Apollo bridge and some of the newest dominants you can find in the book only.
Downstream from the new bridge, a new modern riverside center is being built. The project includes a creation heralding the grandiose advent of the new millennium in the Slovak metropolis. In 2007, Bratislava and the entire country finally saw opening of the new building of the Slovak National Theater.
That Bratislava is a beauty on the Danube may also come to mind out in the streets. Look out for a "steamship" symbolically sailing down Danube Street!
More information:

Bratislava and Surroundings- Guidebooks and Maps
Published: 2009-03-30
Updated: 2009-03-30