Knapsacked travel in Slovakia. Around Bratislava, The Male Karpaty Mts.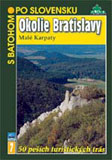 The tourist guide is a part of the series Knapsacked Travel in Slovakia intended for hikers.
The guide contains detailed description of the 50 individual routes in the wider Bratislava region. Maps, information on schedules of routes and altitude differences are included. The guide was published in the English, German and Slovak languages. Slovak version was published in the 2nd edition, English and German versions are available in the 1st edition.
Content
Introduction
How to use the guidebook
Situation
Natural setting
Natural landmarks and points of interest
Map

Individual routes

The Königswarte Mt.
The Braunsberg Mt.
The Archeological Park of Carnuntum
Over the Hainburg hills
the National Park of Donau-auen
The castles of Marchfeld

The Danube alluvia of Rusovce
The Danube alluvia of Biskupice
Sandberg and the Devin castle
From Devin to Dubravka
From Devin to Mlynska dolina valley
Slavin and the Kamzik Mt.
Around the Mlynska dolina valley
The Kacin gameskeeper's lodge
From Zahorska Bystrica to Krasnany
From Krasnany to Zahorska Bystrica
The Pajstun Castle
Across Kosarisko to the Pajstun Castle
From Stupava to Svaty Jur
From Svaty Jur to Stupava
Arround Stupava
Arround Raca
Arround Limbach
The Cmelok Mt.
The Pezinska Baba
The Vysoka Mt.
The Velka homola Mt.
The Tisove skaly rocks
From the Zochova chata cottage to Pezinok
The Cerveny kameň castle
The Zochova chata cottage
From Dolany to Solosnica
The Vapenna Mt. from Solosnica
Arround Solosnica
The Vapenna Mt. from Plavecke Podhradie
The Plavecky hrad castle
Through the Plavecky kras karst
The Cierna skala Mt.
Arround Oresany
The Zaruby Mt.
Ostry kamen and the Zaruby Mt.
Through the Smolenicky kras karst
From Smolenice to Plavecky Peter
Arround Bukova
The Dobrovodsky hrad castle
The Bradlo Mt.
The Cachticky hrad castle
The ridge tour across the Male Karpaty Mts. - 1.
The ridge tour across the Male Karpaty Mts. - 2.
The ridge tour across the Male Karpaty Mts. - 3.
Register
Dictionary
Practical information
More information:

Bratislava and Surroundings- Guidebooks and Maps

Online Bratislava Guide
Published: 2010-08-05
Updated: 2010-08-05