Dole Dunajom z Hainburgu: Zastavka pri zrucanine hradu Röthelstein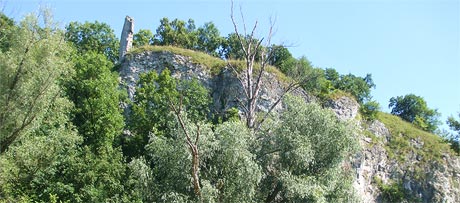 There are two castle ruins immediately near the Danube River in the area of Devinska Brana - Porta Hungarica. Both castles were built on the cliff. The first of them was built on the right bank of the Danube and is called Röthelstein Castle. The name is derived from the family of Röthelstein who owned the castle and the first information about the castle comes from 1180.
Röthelstein Castle ruins are much smaller than Devin Castle which is about 2 kilometers away. But you need a canoe or boat to get from the Rothelstein to the Devin Castle. They are on the opposite sides of the Danube. Röthelstein is in Austria and Devin in Slovakia.
You can visit the castle by short walking path from Austrian town Hainburg. The Danube flow was modified in last centuries and cliff with Röthelstein ruin is hidden behind a low ridge of stones and a Danube branch. But it is high enough to be visible above the trees when you are boating down the Danube.
More information:

Online Bratislava Guide

Hainburg an der Donau - Lovely Austrian Town with Medieval Walls
Vychadzka z Hainburgu na Hrad Röthelstein
Published: 2010-08-04
Updated: 2010-08-04
Categories: - Trips, walks