Sculptor Franz Xaver Messerschmidt and Bratislava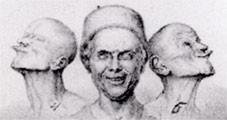 Sculptor Franz Xaver Messerschmidt was born in 1736 in Wiesensteig bei Geislingen, died in 1783 in Bratislava. Messerschmidt is documented at the Imperial Academy in Vienna from 1755 where he was taught by Jakob Schletterer and Matthäus Donner and was later deputy professor of sculpture until 1774. In that year the professorship of sculpture was given to another and Messerschmidt, on account of his "peculiar state of health", was prematurely pensioned off.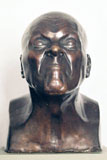 After F. X. Messerschmidt's dramatic departure from Viennese society and two years spent seeking a new home, he finally found a suitable environment in Bratislava: for the last six years of his life (1777-1783) it provided him with sufficient commissions and enough time to work on his "character heads" as they are called.
Professor Maria Potzl-Malikova ( at the photography), author of a huge monograph about F. X. Messerschmidt (Jugend and Volk Publishing Company, 1982 in German language, Slovak edition was published in 2004) has studied Messerschmidt's "Bratislava-period". Next is a part from her paper The Inception of Classical Sculpting in Bratislava and Western Slovakia.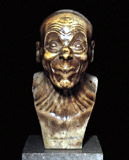 "Several busts have been preserved from his Bratislava period as well as many lockets that significantly represent portrait production in the late 18th century, having drawn inspiration from the Roman antiquity portrait. The best fame, however, was brought by his series of enigmatic "character heads" that he was tirelessly engaged with from the end of his Viennese period. Most of these, however, originate in Bratislava.
More than fifty originals or old copies are known to exist in various public and private collections. The direct incentive for them was Messerschmidt's persecution complex. The grimaces he depicted protected him against delusions, when dangerous spirits in his imaginations threatened his life.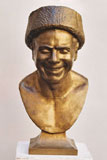 Even if the production of these heads dwell in a psychotic background, their relevance is much greater. These artefacts are at a professional level, they can be identified with the style of the period, and they respond in an idiosyncratic way to topical Enlightenment opinions.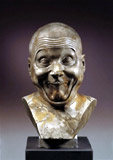 Messerschmidt's work in Bratislava met with a considerable response from local sculptors. Several authors were inspired by his "character heads". However, their imitations fail to reach the intensity of expression in Messerschmidt's works. Among Bratislava sculptors more deeply influenced by his work, we can mention his younger brother Johannes, who resided in Bratislava, and Stupava-born Anton Marschall, who based his production not only on the heads but also on Messerschmidt's portraits."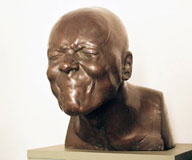 Visitor of Bratislava can see some of famous character heads created by the sculptor in the Mirbach Palace - the City Gallery of Bratislava and in the Slovak National Gallery. Unfortunately, none of them is an original.
There are two heads in the City Gallery of Bratislava as a part of the permanent exhibition The Central European Baroque Painting and Sculpture, the third is in the gallery's deposit. However, there are other original works by F. X. Messerschmidt: the bust of Capuchin and alabaster reliefs of an unknown spouses. The Slovak National Gallery owns 47 replicas of character heads, but only twelve of them are placed at the permanent exhibition Baroque Art in Slovakia.
More information:
Sculptures and Fountains in Bratislava

Online Bratislava Guide
F. X. Messerschmidt a zahada jeho charakterovych hlav
Send a comment
Published: 2008-01-16
Updated: 2008-01-16