Za vyzou velkou do muzea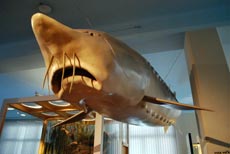 Vyzera ako torpedoborec a kedysi plavala v Dunaji pri Bratislave. Najväcsia sladkovodna ryba, vyza velka (lat. Huso huso). Jej model je sucastou novej expozicie Prirodovedneho muzea Slovenskeho narodneho muzea. Tento rybi obor zmizol z nasich koncin spolu s vystavbou vodnej priehrady Zelezne vrata medzi Rumunskom a Srbskom zaciatkom 60. rokov minuleho storocia.
Vyza velka je najväcsim druhom jesetera a zije v Kaspickom a Ciernom mori, odkial dospele jedince tiahnu do velkych riek na svoje neresiska. Respekt vzbudzuje jej dalsia charakteristika - je to vsezravec, ktory moze vazit az 1,5 tony a merat az 8 metrov. Model vyzy v Slovenskom narodnom muzeu je dlhy 6,4 metra.

Vyzu nevyhnali z riek iba umele priehrady, ale ohrozili ju aj milovnici kaviaru, pretoze kaviar z vyzy je vraj mimoriadne lahodny. Co je dnes tazko dostupnou a drahou lahodkou, bolo stredoveku v Bratislave beznou potravou. Kaviar z vyzy, ale aj inych ryb a dokonca zo slimakov, bol udajne sucastou jedalnicka najchudobnejsich obyvatelov mesta a rybie ikry neraz vyhadzovali alebo pouzivali ako krmivo pre osipane. Je to nenavratna minulost, vyza velka je ohrozenym druhom a figuruje v Zozname prisne chranenych zivocisnych druhov.
Dôvodom inštalácie modelu vyzy v novej expozícii SNM-Prírodovedného múzea je podľa jej autorov snaha priblížiť rozmanitosť živočíšnych druhov, ktoré sa na Slovensku nachádzali v minulosti. "Chceli by sme, aby si ľudia uvedomili, čo Dunaj poskytoval obyvateľom Bratislavy, ale aj celého priľahlého územia pri Dunaji," povedal Ján Kautman, autor expozície.
Pozrite si vyzu veľkú na videu v akváriu.
More information:
The Slovak National Museum in Bratislava
Published: 2011-02-08
Updated: 2011-02-08
Categories: - Galleries, Museums, Exhibitions