DVD Lucnica 1948 - 2008 / 60 Years of Beauty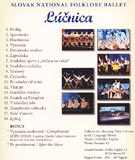 60 years of Lucnica - Slovak national folklore ballet. The program was recorded in cooperation with Slovak Television in 2008 and the DVD was published by Lucnica in October 2010.
Theme, script, choreography and dramaturgy by Prof. Stefan Nosal who is artistic director of the Lucnica ensemble. Show director: Jan Durovcik.
More information:
DVDs and CDs by the Slovak National Folklore Ballet Lucnica
Published: 2010-10-21
Updated: 2010-10-21
Categories: Regional Culture, Folklore