The Dunajec River Paddle Tours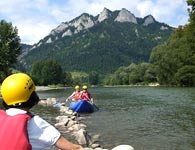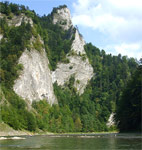 The Dunajec River flows through a beautiful canyon called Prielom Dunajca - the Dunajec Gorge in the area of the National Park of Pieniny. The Dunajec River forms the border between Slovakia and Poland for 18 kilometers. If water level is not too high, rafts for up to 6 persons are suitable for people, who never been in a boat or never rafted before, because they can be accompanied by an instructor /guide.
It is possible to hire inflatable canoe for 2 persons, which is also very safe, but rafting experience is needed.
There are restaurants at the end of a route. You can try traditional goral food and listen to folk music. Then you can either walk along the National park by side of the river or take a mountain bike along the path by the river or simply catch a bus.
Very popular is woodrafting. A tourist can choose offers of many woodrafting companies in the area.
Rafting routes
Cerveny Klastor - Lesnica - 9 kilometers, approximately 2 hours. This is the most interesting route and the best way how to see the National park of Pieniny and the Dunajec River.
Majere - Lesnica - 11 kilometers, it takes approximately 2,5 hours.
Spisska Stara Ves - Lesnica - 17 kilometers, it takes approximately 4,5 hours. This is the longest, but the best route.
More information:
Water Activities
Sport Tips and Adventure Travel, Outdoor Activities

Eastern Slovakia Picture Tour
Published: 2006-06-05
Updated: 2006-06-05
Categories: Water - Paddle Tours, River Guides