Ruins of the Pottenburg Castle and the Royal View
Ruins of the Pottenburg Castle
On the hill between Wolfsthal and Berg there are the ruins of the former fortress Pottenburg (260 m). This interesting castle is almost unknown in Bratislava, although Iron Curtain is so far now. It takes only 10 minutes by car from the center of Bratislava to achive the Pottenburg hill. But take care - the border check point is on the way.
The large size of the castle will perhaps surprise you. It was built around the years 955-1025. There were more owners, duke from Bohemia, king Ottakar II, Otto von Pottenpurch (1253), knight Ulrich Stuchs von Trautmannsdorf (1256), duke Albert III. (1351), knight Falkenstein zu Mannersdorf (1471).
Since 1519 the fort was not settled and later, after raids of Turks, was completely destroyed.

This tower is visible from Bratislava.

A risky ladder to the tower.

Dark stairs in the Pottenburg tower.


A ladder to the Pottenburg enclosure. Cycling is forbidden.
The Royal View
After seeing the ruins, go back to the road, which ascends up the valley and in its upper part the road turns right. You will soon reach the asphalt road running on the forested mountain ridge. Turn right again and you will comfortably reach the top of the Koenigswarte Mt. (344 m). The watchtower on its top, (called Royal View), provides a wonderful view of Bratislava lying nearby.
Additional information:
It is very easy to meet a big wild boar in the area of the Pottenburg castle. Go there on your own risk.
vb
Send a comment
More information: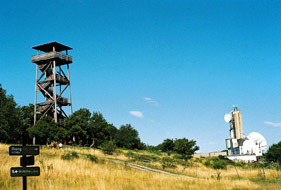 Koenigswarte - Observation Tower near the Berg Village

Online Bratislava Guide
Dolni Rakousko - Nejkrasnejsi turisticke trasy
Published: 2005-05-03
Updated: 2005-05-03
Categories: Trips, walks - Trips, walks - Bratislava and Surroundings