On 15 July 2010 a new landing stage opened in the heart of the Vienna city. The City terminal (Schiffstation City) was officially inaugurated by the mayor of Vienna Michael Häupl together with his counterpart from Bratislava Andrej Durkovsky and the vice-mayor of Vienna Renate Brauner.
The new landing stage will be used by the two Twin City Liners, which sail on the Danube every day between Vienna and Bratislava.
Michael Häupl emphasised that the new terminal is a symbol for "a whole range of cooperative activities with Bratislava". Andrej Durkovsky also sees the new landing stage as an "outward sign of convergence".
Vienna and Bratislava are barely 60 kilometres apart. No other European capitals are so close. Together the two cities have 2.3 million inhabitants.
"The new City terminal is a gateway to Bratislava and a powerful symbol of the convergence of the two cities. We support a proactive neighbourly policy in the interests of the inhabitants of both cities. We meet at eye level and seek to take advantage together of the proximity of the two cities and their combined economic potential," said Häupl at the official opening.
"The elegant river building makes an undeniable contribution to the architecture of the Danube Canal around Schwedenplatz and I should like to congratulate the architect and the investors for their efforts. I am convinced that the Bratislava Infopoint at the Vienna City terminal is the best introduction to Bratislava for the inhabitants of Vienna and Austria and for visitors to the city," said Durkovsky.
The Gate to Bratislava is an information and event centre operated by the city of Bratislava on the main deck of the terminal. The city authorities are planning to set up an advance ticket office for cultural events in Bratislava as well as regular discussion, entertainment and information events and advice and tips for travellers to Slovakia.
(Compress)
Bratislava - Vienna and back: Photo story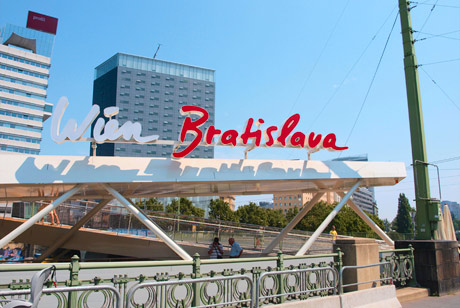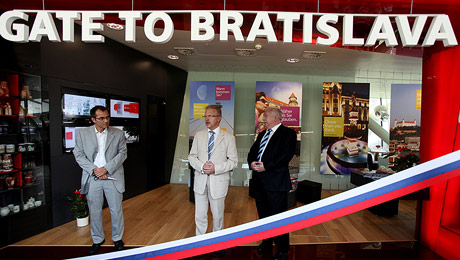 Info gate?.. (July 11, 2014, by: Vlado)
It seems the Bratislava info board in Vienna does not exist.