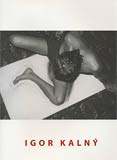 Monograph about Slovak artist Igor Kalny (1957 - 1987). Text in Slovak language with English resume.
Publication includes more than 100 reproductions, list of reproductions, biography.
"In spite of the seeing slightness and unobtrusivenes of works and rather short period the artist himself designated for his life and work, he is an artist exeptionally valuable for the entire Czechoslovak culture due to the originality and uniqueness of work. Igor Kalny seems to fill gap in the production of other artists and at the same time supplement works topical on international art scene with other form of work connected with a drawing as a medium, but not only with a drawing... The main paradox of his efforts consisted in the fact that he did not enter the art scene together with his peers, on the contrary his unique talent enabled him, even in the most hideous years of the normalization, to find a very specific issue that had not oficially existed on the Czechoslovak art scene." (From resume written by Jiri Valoch).