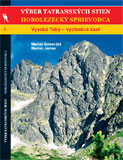 The High Tatras Climbing Guide II. - Eastern part.
Javorovy stit JZ a S, Ostry stit, Siroka veza J a V, Maly hrot, Prostredny hrot JZ, Strelecka veza, Mala Zlta stena, Zlta stena, Maly Ladovy stit, Baranie rohy, Lomnicky stit Z a JV, Velka Lomnicka veza, Kezmarsky stit, Kolovy stit, Maly Kolovy stit, Cierny stit, Jastrabia veza JZ a JV, Vychodna Zeruchova veza, Maly Javorovy stit, Zadna Javorova veza, Velka Javorova veza, Prostredna Javorova veza, Predna Javorova veza a Rohovy hreben.
Besides northern wall of Kezmarsky stit and Slavkovsky stit.