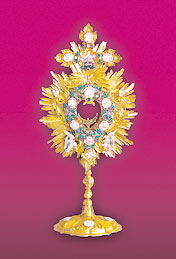 The exhibition in the Treasury Room, Bratislava Castle. Over a hundred sacral jewels used at the liturgy: chalices, patens, ciboria, monstrances, crucifixes, censers and navicula, candlesticks, cruets and reliquaries.
The displayed artefacts can be seen in chronological order from the 14th century onwards. The exhibition concept tried to emphasize the aesthetic aspect of the objects in an educational way in order tomake the history of sacral goldsmith`s craft comrehensible to the general public.
Artefacts mostly come from living parishes and are used in religious services. Most attention is paid to liturgical objects of the majority oman Catholic Church for which the most splendid and representational sacralgoldsmith`s were made. The Lutheran Church, the reformed Christian Church and the Byzantine Rite Churches present their liturgical jewels to the public as well.
The exhibitin is open from May 15, 2010 till April 30, 2011.

Send a comment