Dynamo 2014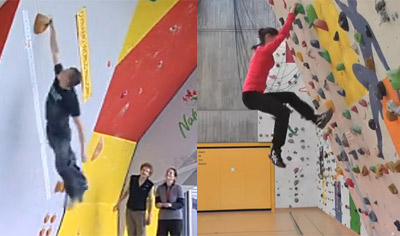 Many dynamos in the New Year 2014.
Vlado Bibel
Od dynama po multidynamo
Podľa starého
manuálu športového lezca
, je dynamo buď rýchle presiahnutie, dynamický krok, alebo skok do vzdialeného chytu. Z ďalších popisov dynama vyplýva, že ho používajú začiatočníci, ktorí márne pátrajú po chytoch, ktoré nenachádzajú - zo subjektívnych dôvodov. Dynamo ale používajú aj lezeckí supermani, či superžienky. Tí tiež chyty nenachádzajú - ale väčšinou z objektívnych dôvodov, pretože na ich cestách býva chytov málo, či sú troška vzdialené. Dynamo si samozrejme môžeme aj vymyslieť, ak si nejaké medzichyty odmyslíme. Dynamo poteší nielen lezca, ale aj diváka. Párkrát som v lezeckej hale K2 v Bratislave pozoroval mladého moravského lezca na ceste, kde sa preteká na rýchlosť. Myslím si, že predvádzal v kuse jedno dlhé multidynamo.

Your comment
© Copyright 1998 - 2018, Panorama.sk
All rights reserved. Any publishing or further dissemination of press releases and photographs from resources of Panorama.sk without prior written approval by Panorama.sk constitues a violation of Copyright Act.
Partners of Panorama.sk sometimes place small data files called cookies on your device. By using Panorama.sk you agree to the placement of cookies on your device.