Kralova Hola Hill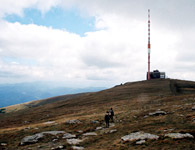 Kralova Hola (1,946 meters above the sea level) is the highest mountain of the eastern part of the Low Tatras range, in central Slovakia. It is the landmark of the region and one of unofficial Slovak national symbols along with the Krivan peak. Kralova Hola is often depicted in Slovak folklore and Romantic poetry and the folk song Na Kralovej holi stoji strom zeleny belongs to the most popular Slovak folk songs.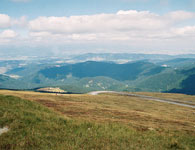 Old legends say it got its name after the Hungarian king Matej Korvín who became enchanted by the wild beauty of the nature around the river Hron and by woods full of game which especially attracted him because of his hunting passion.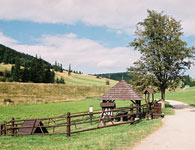 Four rivers rise under the mountain: Cierny Vah, Hnilec, Hornad, and Hron. The summit is accessible by hiking trails as well as a paved road from the Sumiac village, offers a panoramatic view of the Spis region, the High Tatras, the Liptov region and the valley of the Upper Hron.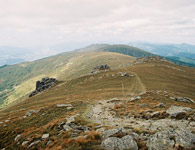 Largely deforested by exploitative timber harvesting in the early 19th century, its timberline was restored to its natural elevation of about 1,650 meters above the sea level through the efforts of Ludwig Greiner in the second half of that century.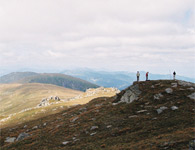 Tourists can access Kralova Hola by walking paths - literally from all directions, or by a popular cycling route. In 1960, a TV transmitter was built on the top of the hill, but access with a car is forbiden.

Send a comment
Komentare
18.9.2016 od Boskokarol:
Kralova hola - Ako partia sme sa 15. 09. 2016 vybrali na Kralovu holu zo Sumiaca a to pekne peso. Mam uz nieco viac ako "6" krizikov a nieco ma tam po prvy krat v zivote tahalo. Nadherna priroda. Narocny vystup sme zvladli tempom dochodcov za 3,5 hodiny. Na pol cesty sme mali dobry pocit z rychleho obcerstvenia, zrejme este len zacinajucej prevadzky. Vytuzeny ciel bol odmenou za nasu namahu, stalo to zato!!! Presli sme okolo vysielaca a hned sme videli to tradicne Slovensko. Nikde ani lavicka, kde by si clovek mohol nieco zahryznut, alebo dopriat hlt vody, nehovoriac uz o nejakom pristresku, kde by si mohol schovat hlavu pred dazdom. No a okolie vysielaca, hlavne zo zadnej strany, to bol skutocne "Slovensky" pohlad odhadujem tak sestdesiatych az sedemdesiatych rokov, jednoducho "bordel" ako v tanku ... Neviem, kto je vlastnikom tohto objektu, alebo jeho prevadzkovatelom, no urcite by mohli pre dobry pocit turistov urobit nieco viac ... Zial, aj takto sa otvarame svetu a "robime vsetko" pre rozvoj cestovneho ruchu v tak nadhernej oblasti akou Nizke Tatry su ... Sme na Slovensku, zial...
Published: 2015-01-15
Updated: 2015-01-15
Categories: Trips, walks - Hiking, Trekking - Slovakia - guidebooks