Ostry Kamen Castle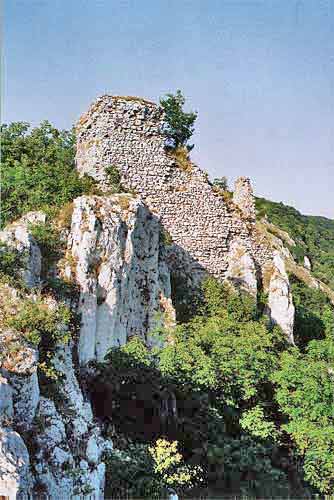 Ruins of the Ostry Kamen Castle are hidden at the top of a hill close to the Bukova water reservoir. Some of visitors of this water reservoir even have not noticed these ruins. This is a pity for them. Ruins are large and interesting.
The Ostry Kamen Castle was one of the royal border forts guarding the Czech Road in the past. Its name means Sharp Stone. It was built on the rocks of the Small Carpathian Mountains in the 13th century.
It is in decay since the 18th century thought part of its walls, bastion, and adjacent buildings are still observable.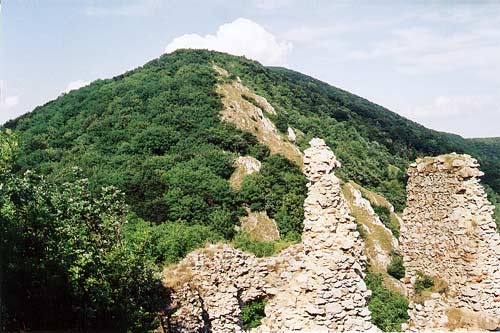 View from the Ostry Kamen Castle to Zaruby ridge.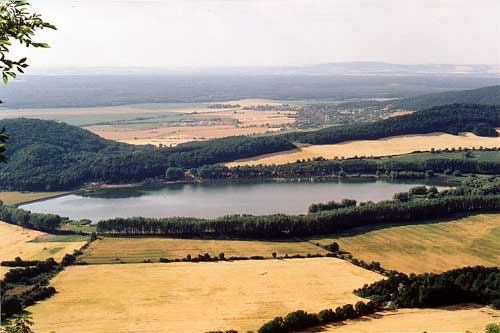 Water reservoir Bukova - a view from the Ostry Kamen Castle.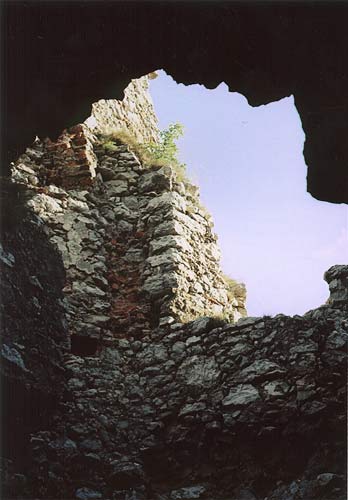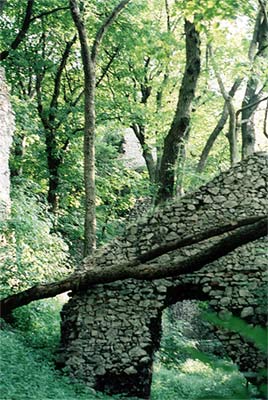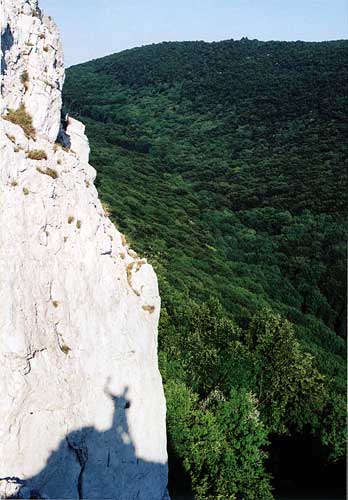 The Castle (570 meters) was built on the western part of Zaruby ridge. Zaruby are the highest point of Male Karpaty (767 meters) and behind Zaruby Peak is Havranica with its rocks.
There is a beautiful view of the Small Carpathian Mountains and the Zahorska Nizina Lowland from the castle ruins.
Location - in the west part of the Little Carpathians Mountains, near the village Bukova with its water reservoir. There is a recreation resort (swimming, fishing, camping).
How to get to the castle

By car from Bratislava by highway D2 till Lozorno. From Lozorno ride in northern direction till the water reservoir near the Bukova village. At the water reservoir keep the yellow tourist sign (about 25 minutes) till the red marked path - Stefanikova magistrala. From there it takes about 45 minutes to the castle.
Other way is a blue signed route from Plavecky Mikulas village - 1 hour and 25 minutes till red signed route.
Red signed route - Stefanikova Magistrala begins in the south of Little Carpathians and is a part of cross-Slovakia route finishing in Dukla Pass, in the Eastern Slovakia.
There are nice rocks on the ridge below the castle. Unfortunately, these rocks are closed because of neighboring private enclosure.
vb

Send a comment
More information:
Online Bratislava Guide
Published: 2005-05-13
Updated: 2005-05-13
Categories: Trips, walks - Trips, walks - Bratislava and Surroundings