Slovak Money - Slovak Crown: Banknotes and Coins
CURRENCY
Slovakia adopted the Euro on January 1, 2009. On July 8, 2008 the European Union had formally invited Slovakia to join the European single currency and had set the rate at which crowns (koruna) were exchanged for euros. The official rate was set at 30.1260 crowns to the Euro.
See HERE how Slovak Euro coins look. For more information see the National Bank of Slovakia site and the European Central Bank site.
Pictures of former Slovak coins and banknotes
10h (hellers), 20h (both coins were removed in 2004), 50h coins.
10h coin shows wooden belfry from Eastern Slovakia, 20 h coin shows Krivan peak - symbol of Slovakia, 50 h coin shows Devin castle.


1 Sk, 2 Sk, 5 Sk, 10 Sk coins.
1 Sk coin shows a sculpture of Madonna from Master Paul's altar in Levoca (1507-1518), 2 Sk coin shows The Venus of Moravany, sculpture made from mamooth bone, over 20 000 years old. 5 Sk coin has a motive of Biatec - celtic coin found in Bratislava. 10 Sk shows a cross from the era of Great Moravia.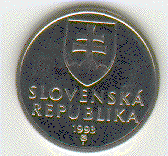 Reverse side of coins.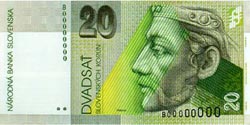 20 Sk note - portrait of prince Pribina, one of the personalities of Great Moravia.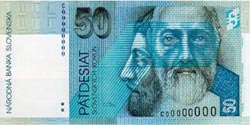 50 Sk note - St. Constantin (Cyril) and St. Methodius, authors of the first alphabet of Great Moravia.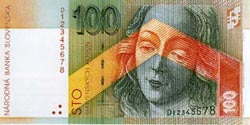 100 Sk note - detail of sculpture from Master Paul's altar in Levoca.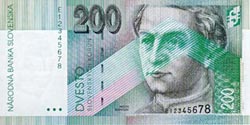 200 Sk note - Anton Bernolak (note valid from Oct 1995).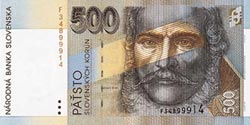 500 Sk note - Ludovit Stur, Slovak leader from 19th century.

1000 Sk note - Andrej Hlinka, priest and Slovak pre-war leader.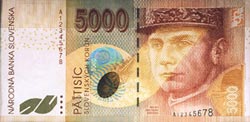 5000 Sk note (issued May 22, 1995) - Milan Rastislav Stefanik, one of the founders of Czechoslovakia.
Slovak central bank - Slovenská národna banka.
More information:
Published: 2005-03-05
Updated: 2005-03-05