The Topolciansky Castle and its Tower

The Topolciansky Castle was built in the 13th century and was abandoned in the 18th century. The Castle is located above Podhradie village, 14 kilometers away from Topolcany city.
It is situated at the south-east part of the Povazsky Inovec Mountains. Ruins of the castle look very bizarre with a high tower.

A wall of former castle palace looks like a big Coloseum.


The heart of the castle - the tower.

Ruins of the former wall.
There are other castles in surroundings: The Uhrovec Castle, The Sivy Kamen, The Jelenec Castle.
How to get there by car from Bratislava

Take Highway D61 (D1) up to Hlohovec exit. Then go in direction Topolcany, pass villages Velke Ripnany, Nemcice, Kuzmice, Jacovce, Zavada till Podhradie. About one and half hour from Bratislava.

Send a comment
More information:
Online Bratislava Guide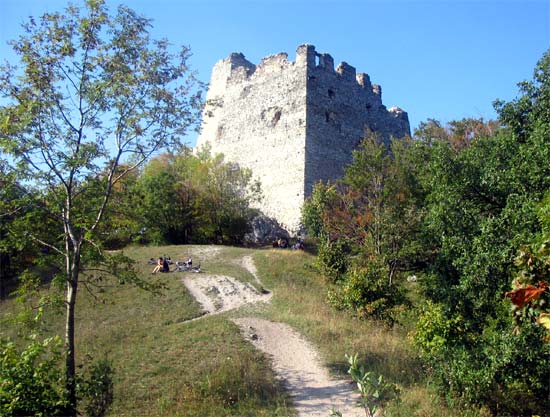 The Tematin Castle and the Golden Eagle
Published: 2006-10-03
Updated: 2006-10-03
Categories: Trips, walks - Trips, walks - Bratislava and Surroundings