Turčianske Teplice Spa a aquapark webcam
Webcam in Turcianske Teplice - Spa & Aquapark.
<%feratifr 1024,lang%> <%googlsirkaokr%>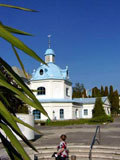 Turcianske Teplice is situated in the south of Turcianska Basin, 518 meters above the sea level, at the base of the Velka Fatra Mountain. There are mineral springs and thermal water in Turcianske Teplice. The first record about the thermal springs on the territory of current town is from 1281. Turcianske Teplice is the only spa in Slovakia to treat kidney and urinary tract diseases. Locomotor system diseases of adults and children have been successfully treated as well. An extensive park is the part of the spa area.
© Copyright 1998 - 2018, Panorama.sk
All rights reserved. Any publishing or further dissemination of press releases and photographs from resources of Panorama.sk without prior written approval by Panorama.sk constitues a violation of Copyright Act.
Partners of Panorama.sk sometimes place small data files called cookies on your device. By using Panorama.sk you agree to the placement of cookies on your device.